The media day for the CNE has been marked off in my calendar since July 9th. I'm not kidding, this is one event I was not going to miss!! It's an opportunity for me to sample an array of goodies all at one time. Note the word "sample".
However, as much as I wanted to sample everything …I didn't. I couldn't. I wouldn't. I only sampled 4 items. This means I will just have to return to the CNE. Right?
This is what I sampled and seriously you should go to the CNE and eat these items too. You can thank me later.
1. The All Bacon Canuck Burger from Bacon Nation: An all bacon burger served on an all bacon bun. Topped off with 2 strips of bacon and 1 slice of thick cut peameal bacon. Please try this. I insist.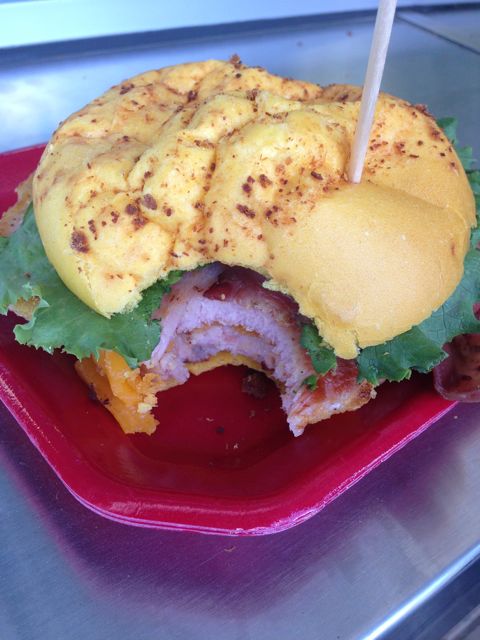 2. Nutella Fries from Spread Nutellerie. These fries are simply brilliant. I loved how they had just the right amount of sea salt on them. The combo of the chocolate and the sea salt was heavenly (my taste buds were telling me). Congratulations to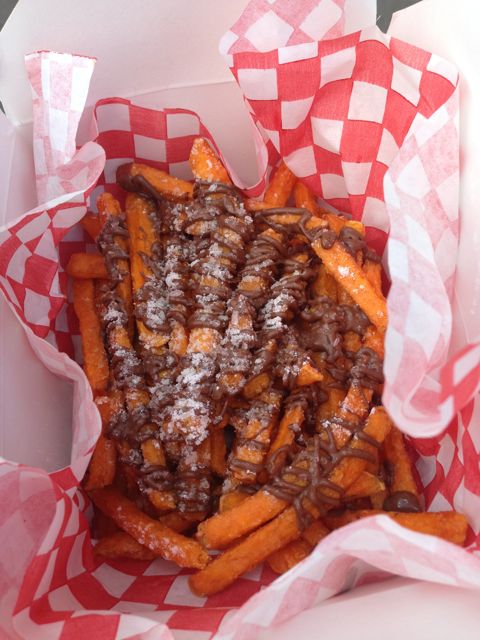 3. The EPIC Maple Bacon "Cronut" Inspired Burger. What is it exactly? It's a maple bacon cronut inspired burger rolled in cinnamon sugar, sliced in half, filled with 100% Canadian , all beef patty, cheese and topped iwth a home made maple bacon jam, (both Canadian too). Congratulations to Epic Burgers and Le Dolci who partnered this year to create this sensational item. My waistline thanks you.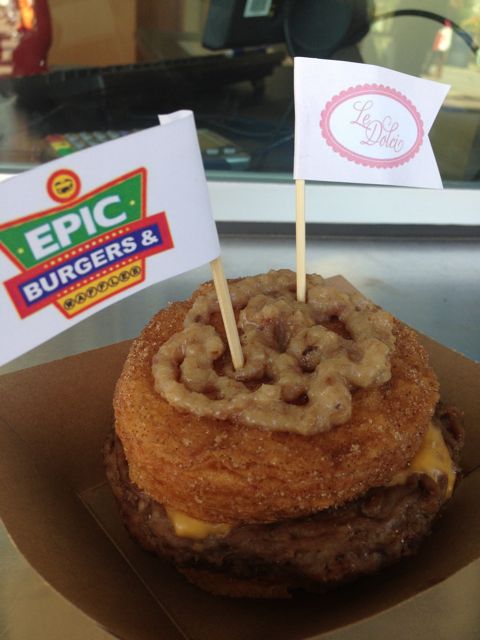 PS the Maple Bacon Cronut inspired Burger is only available at the Canadian National Exhibiton from Aug 16th to September 2nd. I'm crossing my fingers that Abbey's Kitchen will host an event with them in the near future. Please cross your fingers too.
4. Panini Gelato  OK picture this. …A combination of fresh gelato sealed within a warmed sweet fresh brioche. Can you say "Un-freakin'- belieavable"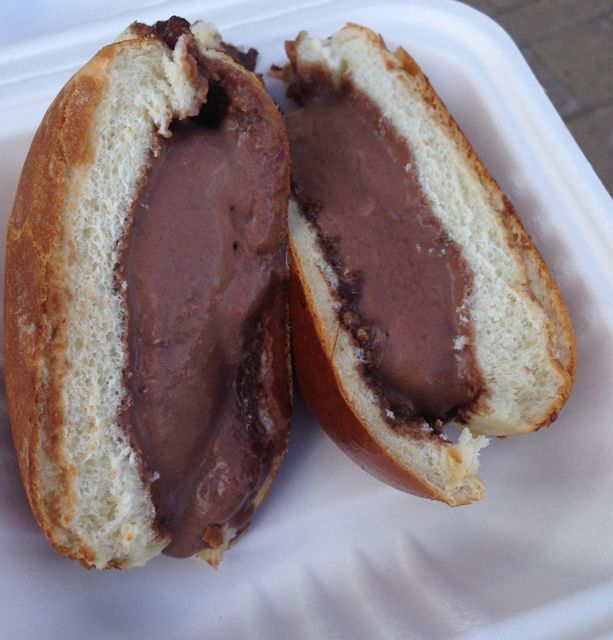 My stomach had such a good experience, that it wouldn't surprise me if you saw another blog post about the CNE!!
The CNE runs from Aug 16th to Sept 2nd at Exhibition Place, Toronto Ontario.
Website: www.theex.com
Twitter: @letsgototheEX
Facebook: https://www.facebook.com/TheEx
There is even a CNE app!!