Everytime I have guests, I receive a lot of compliments about my salads. I use to think that the secret to a great salad is to make homemade dressing but lately I've been thinking that there is a lot more to it.
So I decided to ask my twitter friends (tweeps) "what's your secret to making a great salad" and here's what they wrote:
@MuskokaRx Broccoli @yyzsportsmedia fresh ingredients @mominc toasted nuts. Or goat cheese. Any cheese really, now that I think of it  @IraKates building flavours @Upaya_Naturals Our #raw sprouted croutons @SharonDV Bacon @ChickyMara crisp cold lettuce. Great dressing. Everything is better with croutons @TheBumpercrop local greens, grainy mustard @Winemakersboots vinegar and something cool like Montrefort cheese and Bizjak pears @Table17 Bacon @foodNURD I'm a big fan of adding candied walnuts/pecans to salads. Great texture/flavour contrast @elisecooks Dry Greens! Something crunchy. Something fruity. The right ratio of salad to dressing @Forkin_Healthy very clean, organic mixed greens. Fruit and cheese too. Maybe nuts or seeds. But clean spun is #1….and it rhymes!
I then took some of the above advice and  made a plate of goodies that I was going to add to a bowl of plain mixed greens. I prepared: chopped apple, pomegranate seeds, dried blueberries, pecans, herbed goat cheese, fresh thyme, blood oranges and roasted dried garlic (that I recently discovered).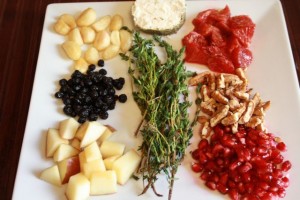 Here's the result: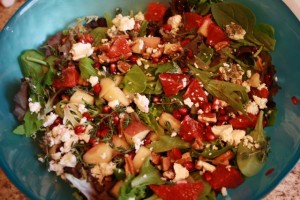 I will be serving this for dinner Friday Nite and I have no doubt that it will be inhaled. In the event you are wondering what type of dressing I am going to use – please visit again – as I will be blogging about dressings in the near future. Please also take a minute to visit Life Made Delicious for more great salad recipes.
Disclosure: I am part of the Life Made Delicious Connector Program and I receive special perks as part of the affiliation with this group. The opinion on this blog are my own.