I found two apps recently that I would like to share with you. One is a food app and the other is a booze app – not a bad combo.
Seriously, I think both these apps are genius. Which is why I am blogging about them.
The first app is called Get Cracking which is brought to you by the Egg Farmers of Canada. Here is what I love about this app:
-the design of the app is clean. Super clean. There is NOTHING complicated about this app.
-they have thought of everything..even an egg timer!!
-the color and the font are user friendly i.e yellow and white with an easy to read font
-its SIMPLE to use. Click on the video below and you will see what I mean.
The next app that I discovered is the LCBO app. Even though LCBO is not on twitter…I will forgive them as this app is super easy to use and makes my life that much easier when I'm trying to locate a new beer!! There has been times (in the past), where I had to go to three stores in order to find a particular bottle of beer.
I simply enter the product I'm looking for – let's say Great Lakes Orange Peel Ale – enter my postal code – and poof – the app will tell me what LCBO in my neighborhood is carrying this product and HOW MUCH INVENTORY they have of that particular product.  How brilliant is that?
As for the design of this app: the team did a great job. It's simple to navigate without a lot of copy. Perfect!!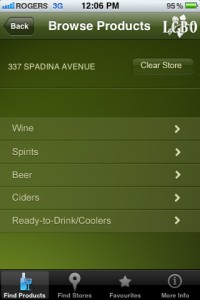 Both apps are free…which is a bonus.
Hope you get a chance after reading this blog entry, to start clicking on your iTunes Library to find both these amazing apps.
PS Feel free to share any amazing apps you have recently discovered too. Don't be shy.