I'm a big fan of community events and love to support them. Therefore I'm blogging about a community event called Shop Wine and Dine, that I thought I might share BEFORE the event takes place. I know how much you hate when I blog about something AFTER an event.
So mark your calendars for the Mount Pleasant Village Shop Wine & Dine event on June 16th from 5 to 9 pm. FYI – Mount Pleasant Rd is located between Eglinton and Davisville. RAIN OR SHINE.
Retailers and restaurateurs will "roll out the red carpet" for local residents, people who work in the neighbourhood, shoppers, and commuters heading home. Guests will be entertained by live bands,    shopping sales, and order from specialty restaurant menus created exclusively for this event.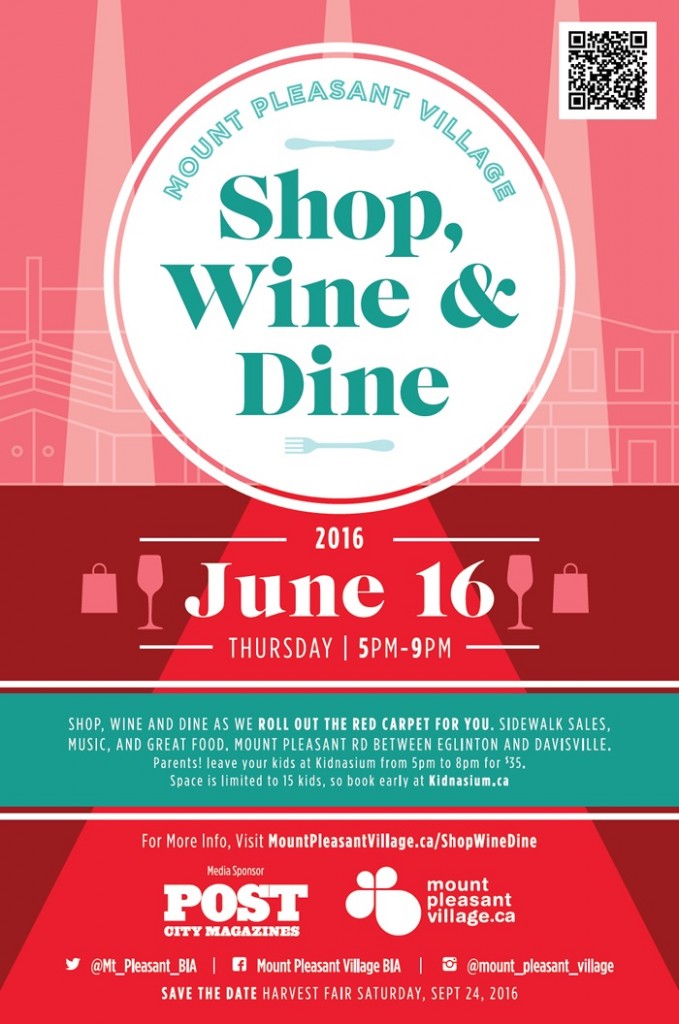 The event will feature 4 to 6 live bands along the street which will certainly create a festive environment. Plus many retailers will be offering specials. For example: Manor Hair Salon will be offering FREE braids and Healthwinds Spa will be delighting visitors with free hand massages. You can even drop into Saati Fine Jewellery for an inspection and cleaning. Please note that parents can leave their kids for $5 at Kidnasium  (limited space – call ahead to book) while they walk along Mount Pleasant. Click here for more information about this great service.
Trust me, the whole street gets involved and it's a lot of fun.
I encourage you to spend some time on their fabulous website so you get acquainted with the shops and services along Mount Pleasant. It truly is a fabulous community with lots to offer.
Website: www.mountpleasantvillage.ca
Twitter: @Mt_Pleasant_BIA
Facebook: https://www.facebook.com/mountpleasantvillage/
Disclosure: This is a sponsored post however all opinions are my own