I had the opportunity the other day to visit the Chatelaine Kitchen and meet celebrated Chefs Yotam Ottolenghi and Sami Tamimi. I was familiar with these two chefs as many of my friends have their cookbook and I've often leafed thru it while chatting with them in their kitchens.
When I posted on facebook that I was at this event. ..there was a lot of very positive feedback. Clearly they have a HUGE following!!
The lovely Claire Tansey who is the Chatelaine Food Director, introduced both chefs and then asked them a few questions while they prepared a salad. (which I forgot to take a photo of..arghh).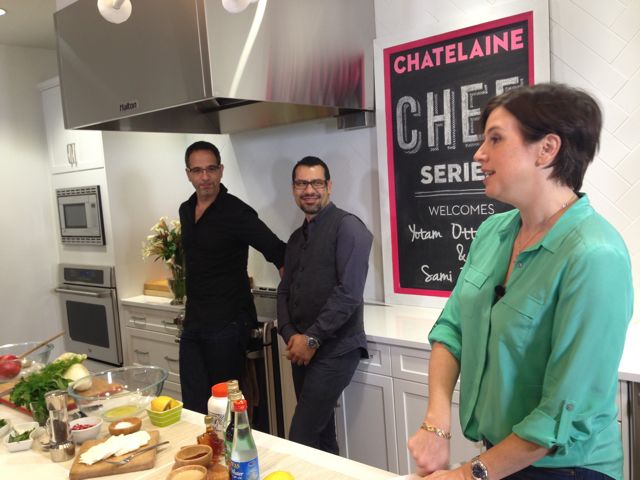 Questions from the floor were also taken:
-What are some under used ingredients: They answered – Tehina, Maple Syrup, Rose Water and Sumac.
-Who would they like to cook for?: They answered – Nigella Lawson!!
I was thrilled to find out that all the guests would be receiving an autographed copy of their recently launched cookbook: Ottolenghi: The Cookbook!!
I've been flipping thru it and have  spotted a few recipes I'm sure I will be trying in the near future. Specifically:
-Portobello Mushrooms with Pearled Barley and Preserved Lemons
-Danielle's Sweet Potato Gratin
-Fennel Cherry Tomato and Crumble Gratin
This cookbook features 140 recipes with bold and flavorful ingredients. I'm sure I'm going to love it!!
Happy Cooking!!