Lately I've been going to yoga every Monday night at The Rock Store.  However I received an invitation to attend a Chocolate Cocktail event at Cafe CanCan (89 Harbord St) and it was no brainer to skip yoga that night.
Each cocktail featured Green & Black's premium chocolate and I loved each one. It would actually be difficult for me to pick a favourite!!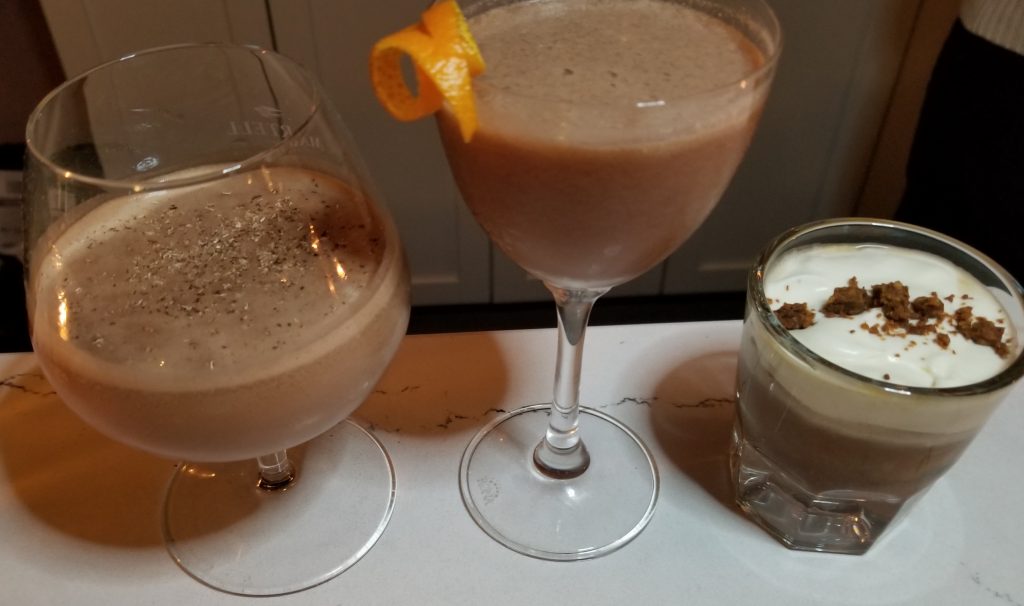 These  unique chocolate cocktails are being served at both Cafe CanCan and PianoPiano (89 Harbord St) for a limited time only!! ( from Dec 5-21, 2017).
However if you would like to make one of these cocktails at home, here's the recipe for the "Highland Holiday" courtesy of Chef Victor Barry for Green & Black's.
Ingredients (serves 15 cocktails)
200 g (2 bars) Green & Black's Dark Chocolate
1 Tbsp. (15mL) heavy or whipping cream (35%)
1/4 oz. (7.5mL) Scotch whisky (peated)
1-1/2 oz. (45mL) Scotch whisky (unpeated)
1/4 oz. (7.5mL) Galliano 1/2 oz. (15mL) simple syrup
1 Egg
3 dashes bitters
1 whole nutmeg, for garnish
1 orange zest, for garnish
Directions
Melt chocolate in a mixing bowl over a pot of boiling water, stirring frequently. Remove from heat. Whisk in cream and chill. Once cooled, gently whisk soft peaks are formed.
Pour the peated Scotch whisky into a snifter glass. Swirl glass quickly so whisky splashes around the inside of the glass. Tip the glass so whisky reaches the rim then slowly turn to thoroughly coat the inside of the glass. Discard excess rinse.
In cocktail shaker, combine the unpeated Scotch whisky, Galliano, syrup, cream, egg and bitters and shake with ice. Strain into Scotch whisky-rinsed glass.
Spoon whipped cream over liquid. Using a fine grater or nutmeg rasp, garnish with nutmeg.
Using a citrus zester, remove a strip of orange peel, taking care to remove just the coloured peel and not the bitter white membrane. Express oils from the peel by holding it with both hands over the whipped cream and twist. Place peel on top of whipped cream for extra garnish.
Now if you don't want to go out for chocolate cocktails or serving cocktails at home., please consider giving Green & Black's as a gift during the holiday season.
These bars make an excellent sweet stocking stuffer, or tie an assortment together with a ribbon for a unique hostess gift. Bars are available in the following flavours: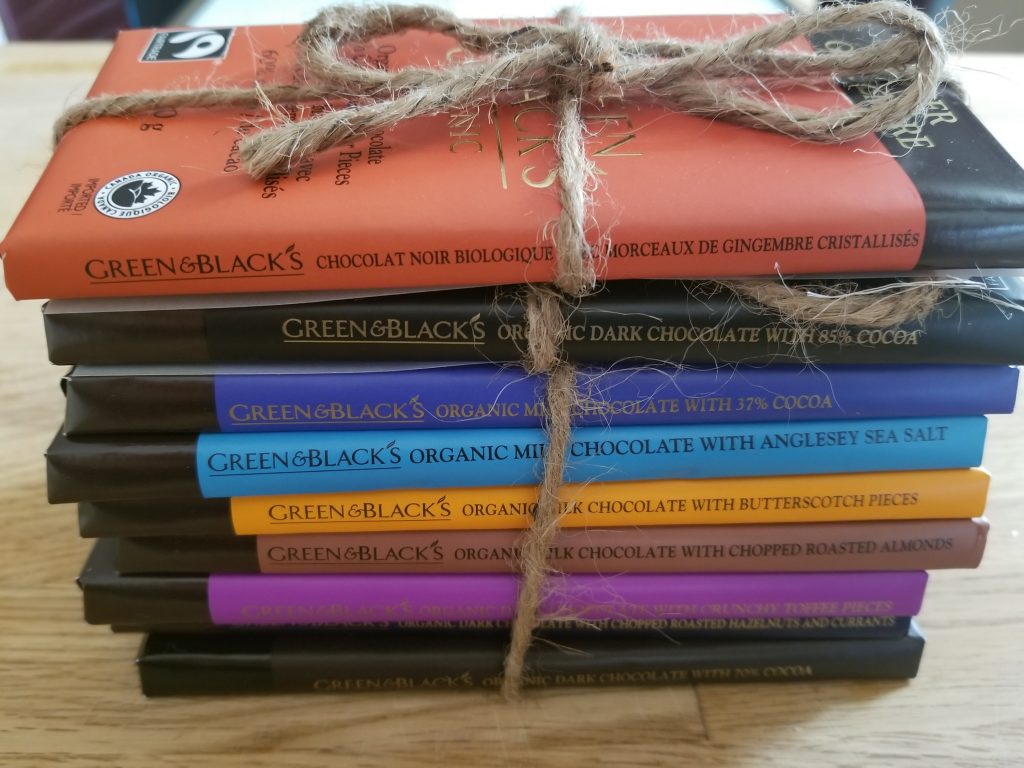 White, Dark, White Chocolate, Burnt Toffee, Dark Chocolate, 70% Dark Chocolate
Milk, Ginger Dark Chocolate, Milk Chocolate, 85% Dark Chocolate, Butterscotch Milk Chocolate, Hazelnut and Currant Dark Chocolate, Almond Milk Chocolate, Sea Salt Milk Chocolate
CHEERS!!
For more information:
Website: Green & Black's https://www.greenandblacks.co.uk
Website; Cafe CanCan https://www.cafecancan.com
Website: PianoPiano http://www.pianopianotherestaurant.com